Hurricane season makes the case for predictive analysis in insurance
Feared "catastrophic" damage following "unsurvivable" storm surge shows need for faster reaction.
As Hurricane Laura made landfall in Louisiana, insurance companies will be hard at work calculating losses. The time has come to put data to work.
"Hurricanes like Laura, which cause enormous losses, make the case for taking a fresh approach to tracking assets," said Dr. Sarah Bourke, Skytek chief executive.
Skytek's REACT software combines real-time satellite tracking of weather events with vessel and offshore platform location and activity, plus a range of historical information that can be used predictively to make cover and underwriting decisions. Insurers can use the insights to purchase greater levels of reinsurance or contact owners about exposure.
The timing couldn't be more urgent: 2020 has been an active hurricane season and, as research published in 2018 in the Proceedings of the National Academy of Science demonstrated, year-on-year storm intensity has been increasing.
"Insurers and reinsurers have, historically, found it difficult to maintain accurate information about exposures in certain areas, such as hurricane paths," said Christian Silies, head of marine and energy at Aon plc, which is partnering with Skytek.
Credit rating agency A.M. Best expects losses from Hurricane Laura to place added stress on insurance companies' balance sheets, which it says have already been weakened by the Covid-19 pandemic.
Hurricane Laura's landfall on the Louisiana coast as a Category 4 storm was similar to that of Hurricane Rita in 2005, which landed on the Louisiana-Texas border and resulted in an estimated US$25.2 billion in total damage.
The US National Hurricane Center, which accurately predicted Laura's expected landfall within 0.6 miles, also predicted a storm surge that it described as "unsurvivable". A confirmed storm surge of over fourteen feet was reported by a US Army Corps of Engineers gauge. At least 25 US fatalities are now confirmed, and 60 total for the storm's entire lifecycle, including the Caribbean.
Officials have confirmed at least six deaths caused by the 150 m.p.h winds, while buildings have been destroyed and over 600,000 remain without power. Rainfall totals reached six inches in central and northern Arkansas, with isolated incidents of five inches in southern Louisiana and Mississippi, western Tennessee, and south-central to southeast Missouri.
The storm caused significant damage in the city of Lake Charles, Louisiana, where it took almost a week to make the majority of streets navigable. Lake Charles' mayor Nic Hunter advised residents to not return to the city for "many days, probably weeks", posting on Facebook: "'Look and Leave' truly is the best option for many."
Analysts have predicted insured losses in Louisiana and Texas of between US$4 billion and US$12 billion.
Offshore, meanwhile, disruption has been significant in an area heavy with marine and energy activity. 
Using its REACT platform, Skytek issued a severe weather advisory on August 26, noting a clustering of vessels in the projected cone of the hurricane including significant numbers of cargo ships and oil tankers, as well as offshore installations.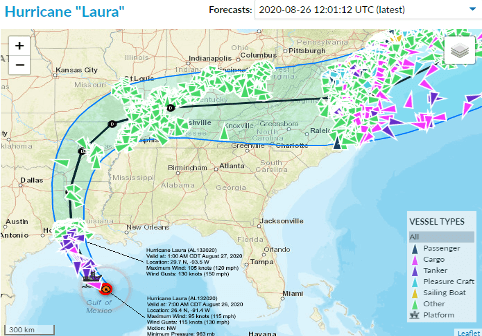 "We tracked 2,750 ships in the area of the storm cone," said Skytek's Capt. Gabriel Zevri.
"Of this number, some 400 are bluewater cargo carriers. A sizable percentage of the remainder, 915 are tug boats engaged in inland traffic."
To read Skytek's latest Severe Weather Advisory on Hurricane Laura, access the report here.
Skytek's REACT system also tracked  533 offshore energy assets of estimated exposed value US$54 billion, and 81 windfarms with an estimated exposed value of US$1.7 billion.
According to the US Department of Interior, roughly 84%, or 1.56 million barrels per day, of US Gulf of Mexico crude oil output and 60% of offshore production natural gas remained shut on Thursday.
Skytek's Sarah Bourke and Christian Silies of Aon plc were interviewed by A.M. Best here.
. 
About Skytek:
Skytek is an award-winning software company specialising in the creation of innovative solutions for a range of complex and demanding industries. It has an enviable track record in developing world class software solutions for some of the most challenging industries. The company has unparalled expertise in the Space environment, where it has decades of engagement with the European Space Agency and NASA. It has also developed intelligent software solutions to other industries, including Marine transportation, Aerospace, Defence and Insurance.
Follow Skytek on Twitter and LinkedIn


About Aon
Aon plc (NYSE: AON) is a leading global professional services firm providing a broad range of risk, retirement and health solutions. Our 50,000 colleagues in 120 countries empower results for clients by using proprietary data and analytics to deliver insights that reduce volatility and improve performance.
Follow Aon on Twitter and LinkedIn
Stay up to date by visiting the Aon Newsroom and hear from Aon's expert advisors in The One Brief.
Sign up for News Alerts here
Media Contact: Alexandra Lewis (+44 207 086 0541)
Aon UK Limited is authorised and regulated by the Financial Conduct Authority for the provision of regulated products and services in the UK. FP# #12972-AD