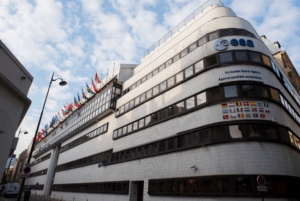 Skytek were invited to present their NG-RMP (Next Generation – Recognised Maritime Picture) system and solution to ESA Council Members and Head of Delegations during the June 2017 council meeting held at the ESA HQ in Paris. Attending the event was Paul Kiernan, CTO of Skytek. A dedicated demo corner showing a live demonstrator of the NG-RMP system was available throughout the council meeting for attendees to visit and get an overview of the capabilities of the NG-RMP system.
The 'Next Generation – Recognised Maritime Picture' (NG-RMP) system greatly enhances the quality and accuracy of the recognised maritime picture for the Irish Naval Service through two high level features.
The provision and integration of S-AIS information data feeds into the Irish Navy's system for generating Irish coastal water RMP.
The integration of additional data sources which when integrated the application of advanced data mining and usage of automated decision support on the captured data will generate an RMP.
We would like to thank all the Council Members and Delegations who visited our demo corner during the event and position feedback we received on the NG-RMP system.